Remove Infringing or Stolen Content
Fast and efficient infringing content removal services to help you fight copyright violations and protect your personal and commercial intellectual property.
GET STARTED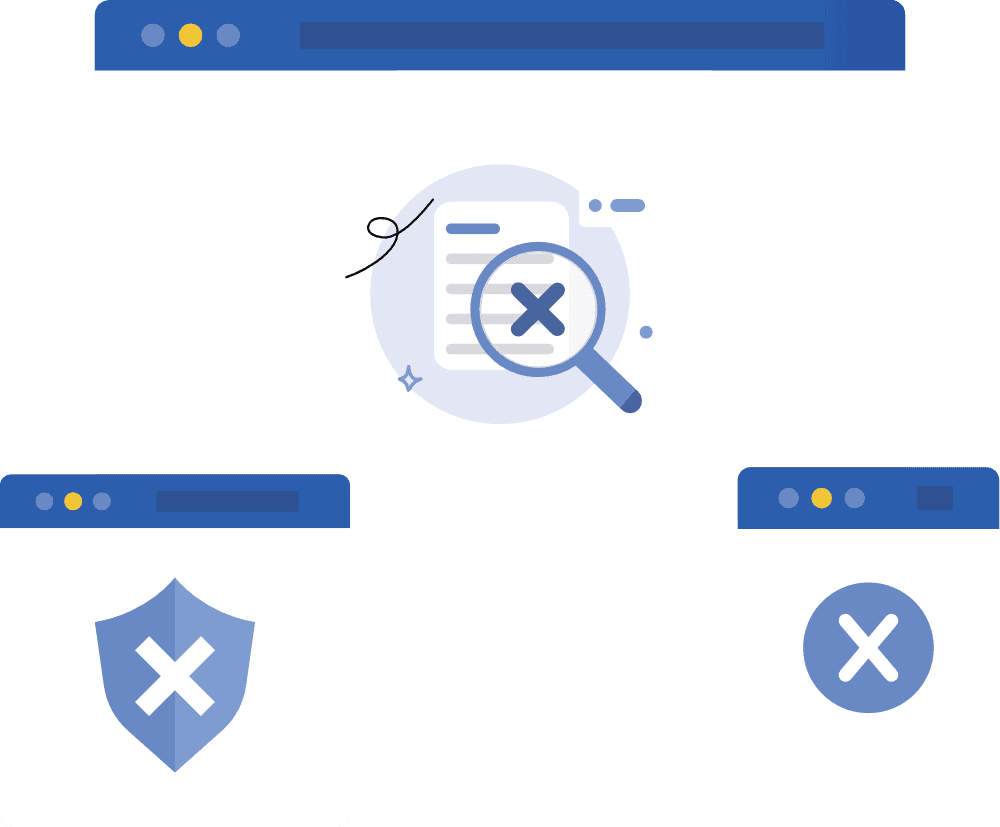 No-Hassle Content Removal
Save Time and Money
We offer professional full-service takedown for only $99. Most of the time we can have your content removed from the infringing website before a lawyer could even get started.
Submit Multiple Locations
Has your content been copied multiple times and appears in many different places without your permission? Let us know and we'll get illegal copies removed from all those places.
Case Progress Tracking
Our team of professionals has the tools and experience to perform successful takedowns. You will be able to monitor and track the progress of your case as your case manager works on it.
Secure and Confidential
All data flow between you and our servers is protected by 256-bit SSL encryption and our system meets all high-authority rules over privacy and security measures on the internet.
Satisfaction Guaranteed
We're so confident in our services that we're willing to offer a 100% money-back guarantee. If we cannot remove your stolen content you get your money back, what lawyer does that?
Trusted by Thousands
Thousands of happy clients around the world use our services to register their original creative works and help ensure their intellectual property is not used without permission.
How It Works
Tell Us About Your Content
Fill in the takedown request form and tell us about your content.
We Launch a Takedown
Our team of professionals will review it and launch an official takedown.
Infringing Content is Removed
Infringing content will be removed and you'll be provided with a detailed report.
Frequently Asked Questions
We will a few basic details about your original content or work that was stolen or used without your permission. We'll also need your authorization for us to act on your behalf to proceed with the takedown. It will take you less than 5 minutes to fill in the takedown request form.
We can remove anything that you created or own that is being used or displayed online without your permission. This includes photos, videos, music, apps, ebooks, articles, product images and descriptions, and even entire websites.
Yes, we have received many requests to remove private personal pictures and videos posted online without permission and were successful in removing them every single time. If this happened to you, let us know and we'll be happy to assist you with it.
Usually, we can get your stolen or infringing content removed within 48 hours. Of course, keep in mind that it may take longer for the other parties to respond which is beyond our control. We will advise you of any such cases and keep you updated along the way through our internal case management system.
Quite simply – we're much cheaper and faster than a lawyer and offer a full money-back guarantee, what lawyer does that!? We specialize in this field and process hundreds of takedown requests on a regular basis. We are experts at what we do and considering our high success rate and our pricing you have nothing to lose by giving us a try.
Ready to Get Started?
Submit a takedown request and let the professionals handle everything for you.
GET STARTED